…At Sloane, the highly anticipated luxury hotel that finally opened its doors in September 2023, stands as a testament to the seamless collaboration between renowned hotelier Costes and visionary designer Francois-Joseph Graf.
Assisted by his trusted circle of exceptional French artisans, recognised architect and interior designer François-Joseph Graf has breathed new life into this elegant Victorian mansion, elevating its feel of a quaint English house to a refined and discreet hotel. After six years of meticulous renovation, the hotel has emerged as a masterpiece of architectural elegance and timeless sophistication. Its aesthetic is a harmonious blend of classic Parisian opulence and rigorous design, creating an ambiance that is both welcoming and exclusive. The façade exudes grandeur with its historic charm, while the interiors boast bespoke furnishings, exquisite art pieces, and an abundance of natural light that effortlessly sets the stage for a truly memorable stay.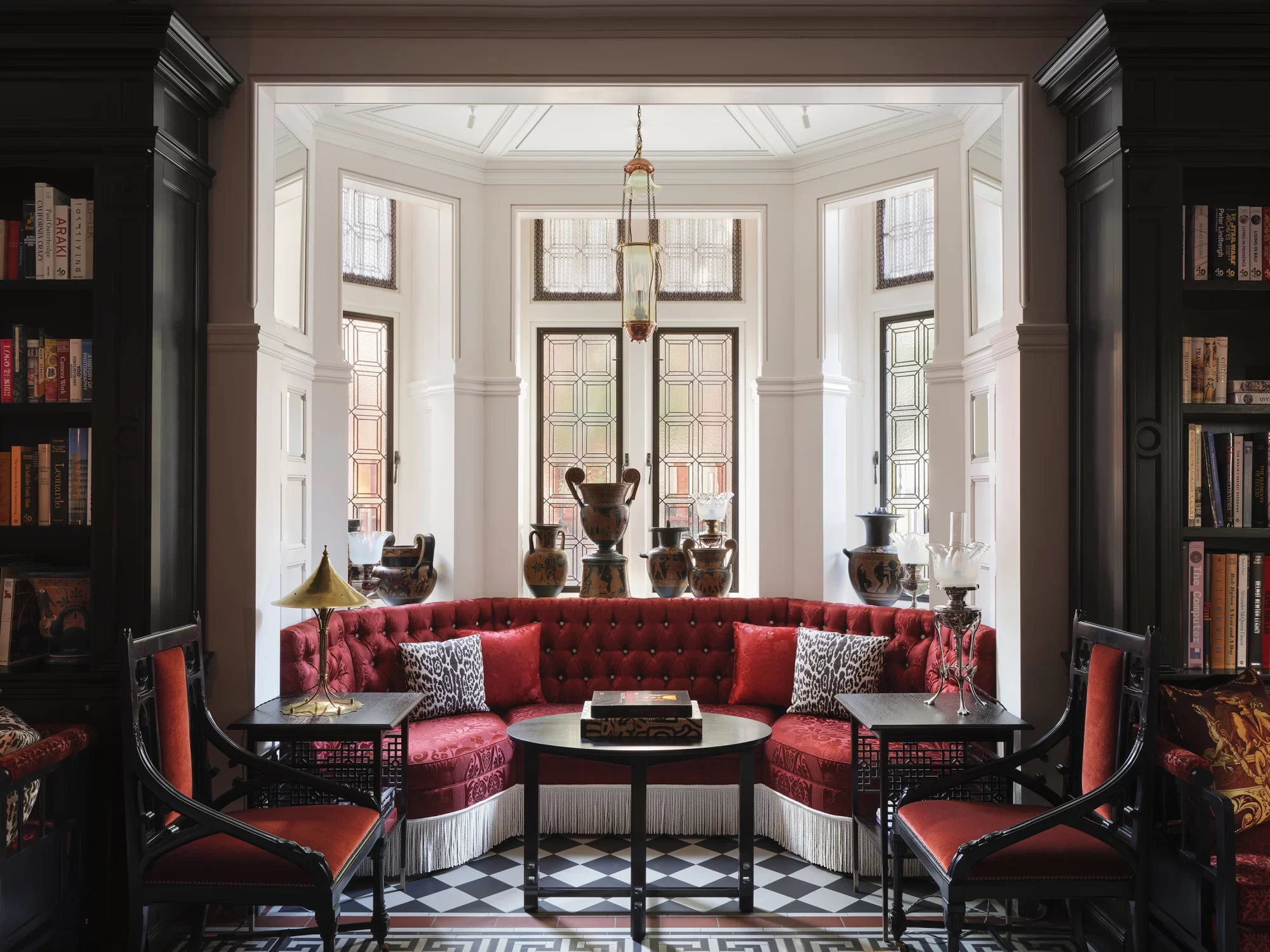 One of the defining features of …At Sloane is its exceptional dining experience. The restaurant offers a culinary journey that marries traditional French cuisine with contemporary flair. Guests can savor delectable dishes in an intimate, candlelit setting that exudes romance and sophistication.
Meanwhile, the bar at …At Sloane is the epitome of modern luxury, with its sleek marble countertops, plush seating, an extensive cocktail menu to be enjoyed to the sound tracks of the hotel's in-house DJ.
Whether indulging in a gourmet meal or sipping on a meticulously crafted cocktail, the hotel's restaurant and bar are designed to provide their guests with a memorable dining and social experience that perfectly complements the overall charm and elegance of …At Sloane.
Nestled on a leafy residential street, next to Sloane Square, and hidden behind a discreet 19th century façade, …At Sloane reveals itself as the perfect blend of quiet British charm and curated French craftsmanship. The hotel sits within easy reach of the characterful King's Road, luxury of Sloane Street and the galleries and art filled boutiques of Chelsea.
…At Sloane features an all-day dining restaurant located on the top floor, offering high-quality, yet unpretentious French cuisine, such as spicy lobster pasta, pommes allumettes and brioche caramel. Inspired by the renowned 'Peacock Room', its stained-glass windows offer a characteristically British level of intimacy with ample natural light.
The intimate lower-ground floor bar has a private entrance on Holbein Place. The 'speakeasy' style open space, partitioned by Arts & Crafts mirror panelling, harmoniously combines with snug rooms. Under candlelight, guests can indulge in superb cocktails and Champagne to the sounds of the hotel's in-house DJ.
Reminiscent of the eternal British comfort, each of the 30 bespoke rooms and suites is individually designed and resonates with the emotional intimacy of a private residence, complete with 'love' and 'music' switch controls and black and white photography depicting couples celebrating love.
The style of the rooms and suites at …At Sloane reflects the same level of attention to detail and design excellence that defines the rest of the hotel. Each room is a masterpiece in its own right, offering guests a refined sanctuary in the heart of Chelsea. The design ethos effortlessly blends classic Parisian elements with contemporary aesthetics, resulting in a space that feels both timeless and modern.